Back to Leadership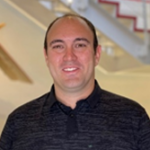 Joe Helou
Vice President, Sales
Executive Summary
Joe is a technically proficient sales professional with over a decade of experience within the communications and electrical contracting industry. Joe, prior to his work at Intelect, was involved in sales engineering and design work related to communications, radio, and networking solutions to State and Local Government entities.
With Intelect Corporation Joe oversees the implementation and execution of multiple projects in the communications and electrical field. Joe has worked on projects involving intelligent transportation systems, communications systems and infrastructure, as well as electrical infrastructure.
Joe is knowledgable in the sale, management, and execution of technology deployment projects and serves as a design, implementation, and maintenance subject matter expert with experience in a variety of wireless, security, and intelligent transportation systems.
Education
Bachelor of Science (BS) in Marketing, 2009, University of Delaware