Back to Leadership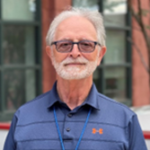 John P. Burke
Vice President, Consulting Services
Executive Summary
John has managed many projects over an illustrious 46 year career in the transit industry. Trained as an engineer, John has performed electrical design, system integration, construction and installation, and operational reviews of intelligent systems for transit applications including digital video camera surveillance systems, intelligent signage and displays, revenue collection systems, and consulting services.
John started working at Automatic Revenue Controls Ltd. in 1973 as a junior design engineer, and quickly grew into the role of Project Manager/Engineer for the design and implementation of computerized toll systems throughout the world. He was relocated to Baltimore in 1981 to start the U.S. subsidiary, and after a few experiences began working at Intelect Corporation in 1998.
John uses his extensive experience and knowledge to oversee Intelect's QA/QC department, as well as monitor the operational process across the organization, identify areas of improvement, and modify project procedures according to quality standards and business requirements. He is often seen as a "subject matter expert" by customers and colleagues and assists a range of company projects, where his extensive past experience in the Transit Industry is of tremendous value.
Education
Telecommunications & Electronics Apprenticeship, 1968, Shipton Electronics
Various Company Sponsored Management Courses
ISO 9001: 2015 Lead Auditor