Back to Leadership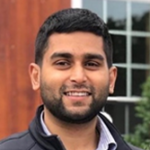 Parth R. Patel
President & CEO
Executive Summary
Parth leads a multidisciplined team of engineers, project/construction managers, and construction industry professionals using lessons from experience as a transportation engineer and industry professional, with over ten years of diversified engineering and construction management experience. Parth's experience includes a focus on intelligent transportation systems and technology for infrastructure construction projects. Parth provides executive construction and program management oversight and advisory support services to Intelect clients on transit system projects and other technology implementation construction contracts.
Parth began his career as a consulting engineer at Parsons Corporation, managing the upgrade and enhancement of electronic security and life safety systems at all Southeastern Pennsylvania Transportation Authority (SEPTA) rapid transit stations. During his time at Intelect, Parth has had active leading roles in multiple construction projects in complex industrial, transit facility construction, commercial construction, and technology for infrastructure projects
Parth is able to achieve project and program objectives by structuring efficient teams, leveraging effective communication, and a sound understanding of the contractual obligations of the parties, and the application of professional construction management, planning and business administration practices. He has an integrated experience in all aspects of construction, to include construction management, design management, risk management, quality management, project controls, planning, estimating, budgeting, change management and contract management.
Education
Bachelor of Science (BS) in Business & Engineering, 2013, Drexel University